An employer must provide a safe workplace like CMS service for its employees and other related personnel. The National Institute of Occupational Safety and Health (NIOSH) calls on contractors who wish to bid for any construction contract to first provide a safety policy statement, provide information about experience and safety training to their employees, and also implement HIRARC principles.
HIRARC (Hazard Identification, Risk Assessment, and Risk Control) is the general responsibility of employers under the Occupational Safety and Health Act of 1994 (Act 514).
Source: HRM Asia
Office buildings and company environments need to be equipped with high-level security systems to protect company employees and property. Anshan's protection system includes anti-theft doors and flexible physical and intelligent access control systems. Ensure that employees need to deal with a large number of people with different access rights every day, and provide safety guidelines in the event of an emergency.
Source: Asian Business Software Solutions
Large multinational companies may need a multifunctional access control system like CMS, which can remotely control and monitor all business premises. In addition, the company also needs to provide office staff with a convenient and easy-to-use security experience, one of which is the access control system. The access control system contains smart cards that can be used for various applications, including keys and physical access.
1. Safety Awareness
Source: OC Tanner
The employees or staff in the office should increase safety awareness and prevent paralysis. Employees should have a high level of awareness and be careful when doing any work tasks or using any equipment. Nowadays, many companies do not have the "greatest security guard", and cause scammers to easily steal the company's documents and secrets. They will cleverly deceive the information they want through the negligence of the company's employees, and use it or threaten the company.
2. Avoid disclosing company safety information
Source: Freepik
Do not easily describe the details of the office or vault to others. The company's secrets and the company's road map are only known to the people of the company. If an employee accidentally tells other people this information, it will put the company in danger. If someone else has a company's roadmap, he will use this information to commit theft or other criminal acts, and he can even avoid all closed-circuit television sights and security guards because he is already familiar with the company.
3. Keep important items
Source: Apple graphic Studio
Taking good care of the precious and important things is something we have been educated by our parents since we were young. People always have greedy thoughts, so to avoid other employees' acts of stealing, we should protect our own property and not easily leave important things in the office or put them in obvious places. Unless we have other employees or someone to help us take care of our assets 24 hours a day, otherwise we can't take it lightly.
4. Always close the door
Source: medium
Make employees develop the good habit of closing doors at will, which helps the company's safety. Not every company's door will automatically close or lock automatically, so closing the door has become an action that employees cannot ignore. Closing the door can prevent unauthorized people from entering the room, and it can also prevent others from seeing the room from outside the room. Employers can protect their company by using smart AI Surveillance Systems, and they can also check whether the company's employees are doing these good habits in real-time.
5.  Always checking security equipment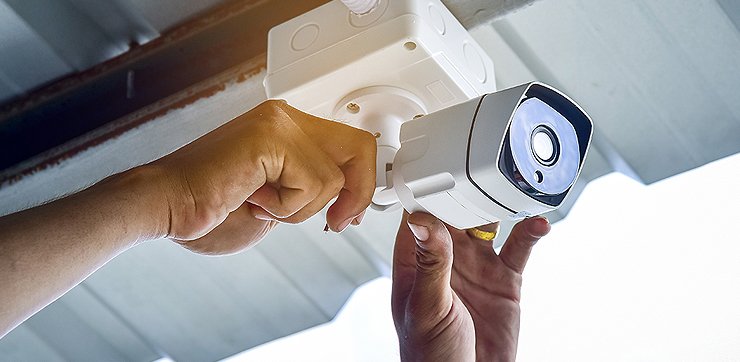 Source: cctvinstallationservices
Regularly inspect the company's safety system or safety facilities to ensure that the safety systems and facilities are operating normally. Some companies have too old safety equipment and do not check regularly, and employers don't know if it is broken. The company failed to protect the company when the accident occurred. The employer should consider upgrading the security system to avoid any security broken or failed issues.
6. ​​ Training on prevention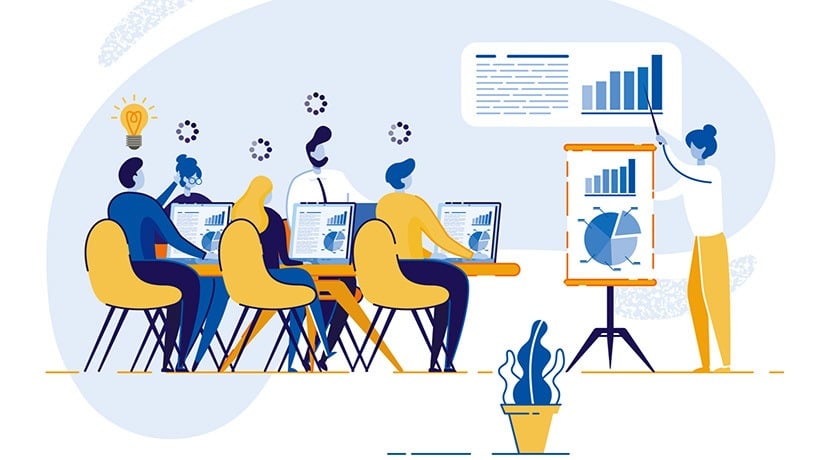 Source: eLearning industry
Regularly educate employees on work safety, carry out precautionary knowledge training, and enhance employees' safety awareness. Training employees can strengthen employees' safety awareness, and also help employees not to panic in an emergency and take effective actions such as DIY installation to help the company recover.
7. CMS Service
Source: Jscsecurity
Central Monitoring System (CMS) is a future of security system that links all security systems and equipment and has superb technology to prevent various crimes. It can also contact the police in the time of an emergency to protect your assets. The system is an intelligent system operation and has the possibility of preventing all crimes in advance with ultra-high technology.
The Central Monitoring System (CMS) will receive the alarm signals, and the signal receiver converts the transmission signals into alarm signal codes, then send them to the central monitoring station software and, display the alarm signal code so that the CMS operators are able to view, manage, and catalog. Central Monitoring System (CMS) by Dahua Technology has equipped the latest AI technology, which brings the security service and system of Malaysia to another higher level. More info.
Read More:
Over the years, we have embarked to be the best provider of security and surveillance systems for many homeowners and retailers here in Malaysia. All businesses, regardless of size, warrant our full attention and service. We know our clients definitely need to pay extra attention to such intricate security details at their workplace.
We are one of the leading home security providers in Johor Bahru, Malaysia empowers us to have the experience and true understanding of how security, particularly remote surveillance and access control security, is of uttermost value to any business.
2,937 total views